Dr. Niruben Amin lovingly addressed as 'Niruma', is prominent disciple of Param Pujya Dadashri who continued Dadashri's mission of world's salvation after his demise. Currently Pujya Deepakbhai is continuing the same mission.
Many of the followers joined the special occasion of Pujya Niruma's Birth Anniversary. Pujya Niruma's 68th birthday celebration started with Prabhat Feri (Morning walk) reciting spiritual songs in Simandhar City, Adalaj – The main head quarter of Dada Bhagwan Foundation.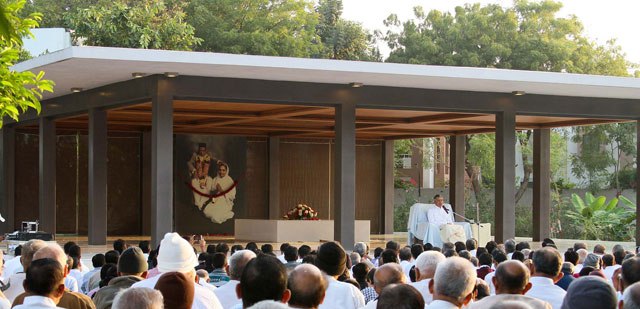 This was followed by Pujya Deepakhai's special message at Pujya Niruma's Samadhi (Memorial), concluding Pujya Niruma's bhavna (last words, wish) Premthi Rahejo Promise? (Live With Love Promise?) asking promise from all devotees to live with pure love and oneness with each other.
In beloved memory of Pujya Niruma, special movie was shown in Gigantic Hall which recharged all mahatmas (followers) with new energy for mission of Jagat Kalyan (salvation of the world). The movie was comprised of Niruma's journey from Dr. Niruben Amin to Gnani Purush (Spiritual master) and was including glimpses of her pure love showered on people which shows how she became World's Mother.