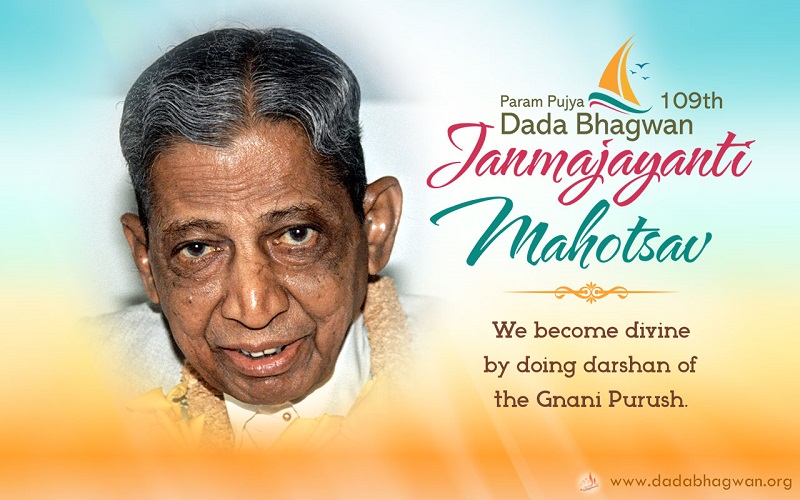 Param Pujya Dada Bhagwan's Janma Jayanti falls on the 14th day of the full moon of kartik as per the Hindu calendar. He was born to mother Zaverben and father Muljibhai Patel on 7th November according to the Georgian calendar, in Tarsali village (Vadodara). He was named as Ambalal also known as A. M. Patel. At the age of 50, that is in June 1958, Akram Vignan naturally manifested within Him on Surat railway station. Thereupon His Soul became awakened, breaking all bondages of anger, pride, greed, and lust.
Param Pujya Dadashri used to say, "I'm not Dada Bhagwan, I am A.M. Patel, the one who is awakened within me is Dada Bhagwan."
This day is considered as one of the auspicious days, as on His Janma Jayanti, we do darshan of Dada Bhagwan who is fully manifested within Him. Mahatmas seek blessings of Dada Bhagwan on this day and ask for strength to overcome all the obstacles and attain ultimate liberation. We often pray to the Lord on our birthdays, but we're fortunate enough that we get to celebrate the Lord's birthday in addition to be blessed with immense glory.
Today, in the presence of Pujya Deepakbhai, we celebrate Param Pujya Dadashri's Janma Jayanti in various cities every year by organizing spiritual gatherings. Let's start the Jamna Jayanti countdown, come let us all celebrate Dada Bhagwan's Birthday once again and receive the Lord's divine blessings.