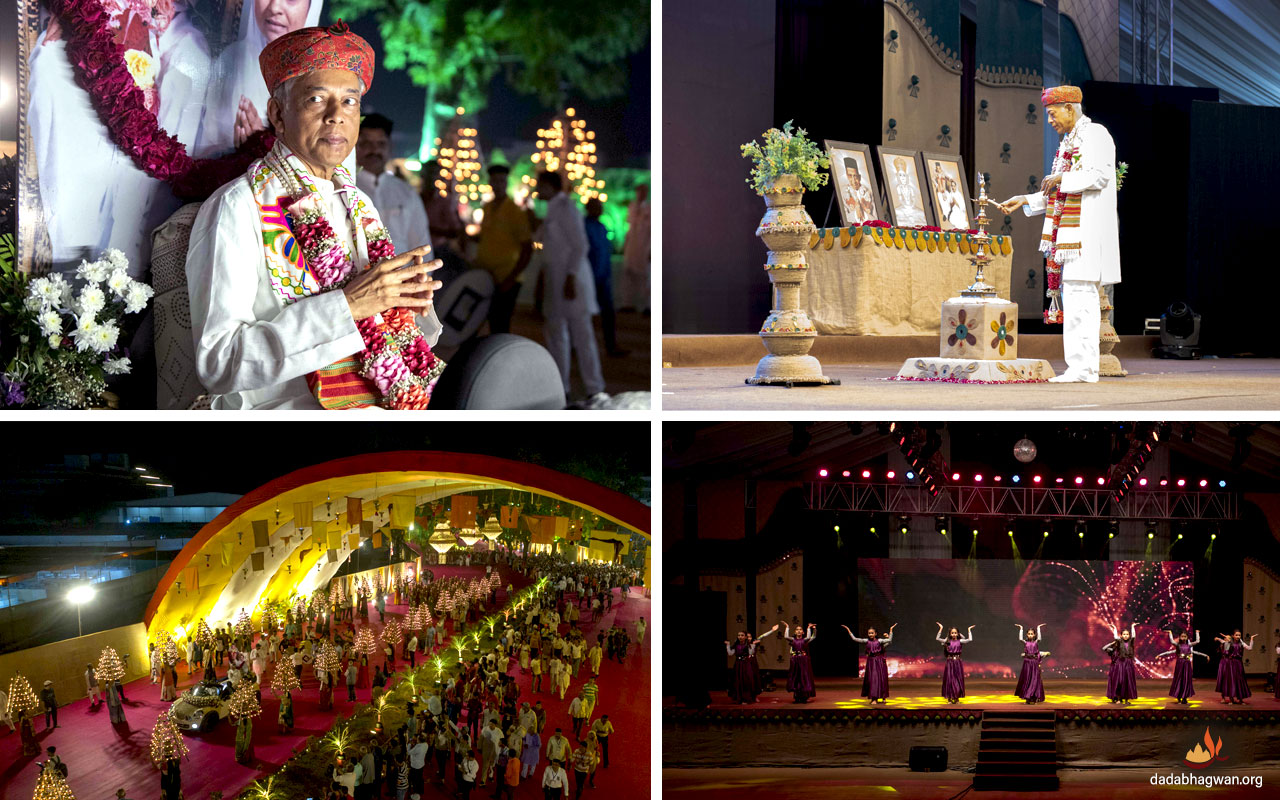 This year, it was Param Pujya Dada Bhagwan's '115th' Janma Jayanti!!!
A grand celebration of this event happened in the auspicious presence of Pujyashree Deepakbhai at Mehsana, Gujarat, India, alongwith thousands of Mahatmas who enjoyed this event together, with great respect and reverence for their Gnani, a firm faith and conviction for the Gnan received from this Gnani, and the enormous enthusiasm and fervor for Gnani's words and His work (Seva) flowing in every heart!
The celebrations commenced on the 3rd of November, 2022 with a grand Opening Ceremony. Amidst the beautiful lyrics of the theme song 'Aayo, aayo, aayo, maara Dada no janmotsav aayo!' energizing the atmosphere, Pujyashree made an enthralling entry on the event Ground as every person present there was eager and keen to have one glimpse of this icon of purity when he passed by them. Pujyashree inaugurated the event with lighting of the lamp and His humble words, "Let's see the pure Soul in every living being and pray to Dada for their supreme well-being!"
Then began the cultural programme, featuring a nice dance performance from kids dressed in traditional outfits, followed by a skit that inspired us all to always remain positive irrespective of the adversities that we may come across in life. Thereafter, Pujyashree reiterated the message that He had given us on the Guru-Purnima Day as the 'Homework' for the year which was 'See Positive and Remain Happy'; and explained how this is best enabled by the application of the Right Vision that we have received from Gnani to see the 'Pure' in the Real and the 'Positive' in the Relative!!!
More than 2,00,000 people attended this event! The Honorable Chief Minister Shri Bhupendrabhai Patel and the Former Chief Minister Rajnibhai too visited here, on the 4th of November and they took special blessings from Pujyashree.
Every day, thousands of people availed of the beautiful Theme park and the Children's Park, meant to kindle the right understanding that helps each one live a happy, harmonious and blissful life. The entry fee was absolutely zero, and there was also the facility of 'Kids Care' so that parents could conveniently spend quality time at every dome, without having to worry about their children.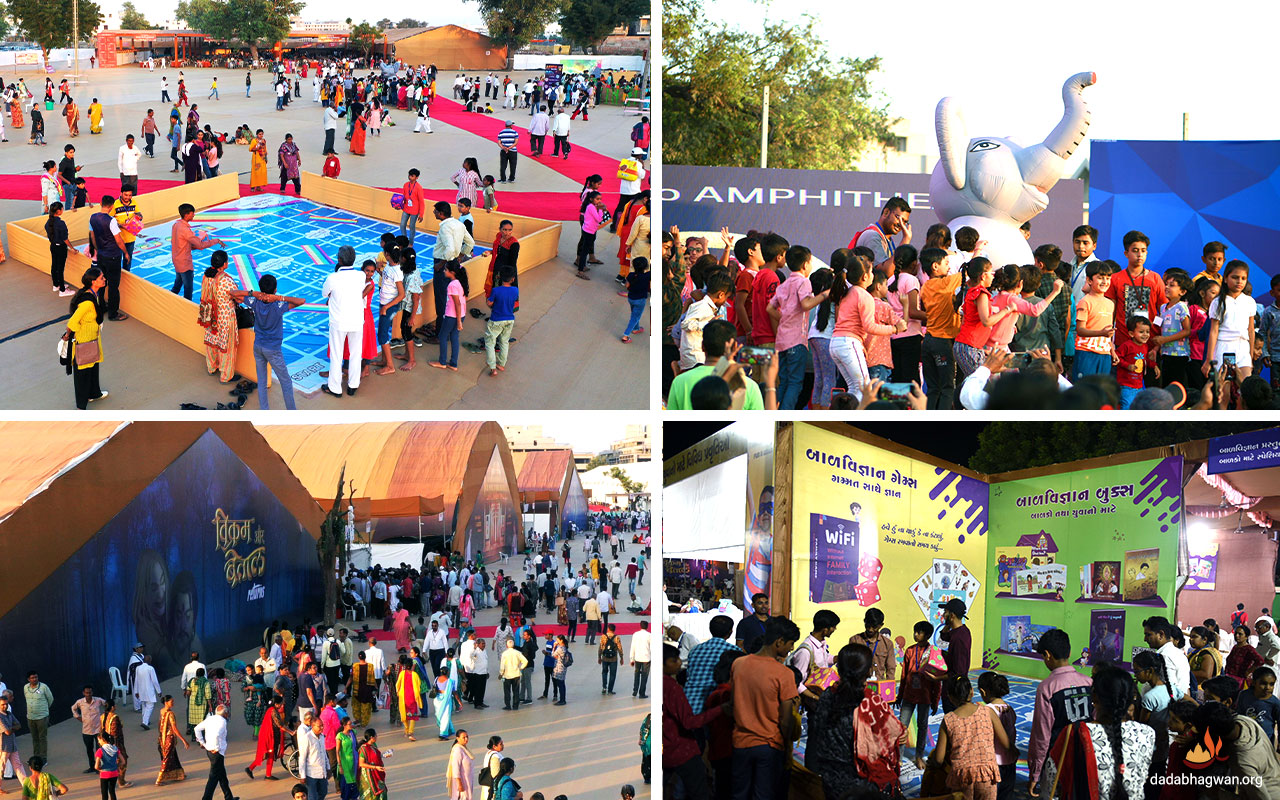 While the thriller multimedia drama show 'Vikram Vetal Return', teaching the significance of humanity in life, was a sheer delight; most practical tips gained in the 'Parents ki Pathshala' to reduce the generation gap and make a healthy difference in their child's life, made all the parents feel quite light. As the show 'A M Patel to Dada Bhagwan' provided people a glimpse into Param Pujya Dada Bhagwan's journey of life; 'Main Kaun Hoon' intrigued in them a desire to know who really am I amidst this web of relationships that surrounds me. Equally exciting were the bustling Puppet show and the Courage Lab domes in the Children's Park, where each, in their playful and interesting way, taught children the basic lesson of living a harmonious life in a manner such that no living being is caused slightest hurt by them. On one hand, the Web Duniya and Baal-Vignan counters served Gnan to keep one's Soul healthy and on the other, the Food Court was busy serving delicious food to keep their bodies fit and going!
A huge number of people attended Pujyashree's Satsang, the most major attraction of this event, in person, and there were ample of them glued onto their mobile / TV sets at their office / home as well, attending the same online. By hook or by crook, one wanted to remain hooked on with their beloved Pujyashree, the most precious instrument, nominated by Param Pujya Dadashri himself to continue the mission of Jagat Kalyan and thus create a miracle in people's day-to-day life by making their salvation possible in just 2 hours' time!!!
On Nov 6, 2022, thousands of people took Gnan (Self-Realization) and got their Soul awakened with the grace of Gnani!!!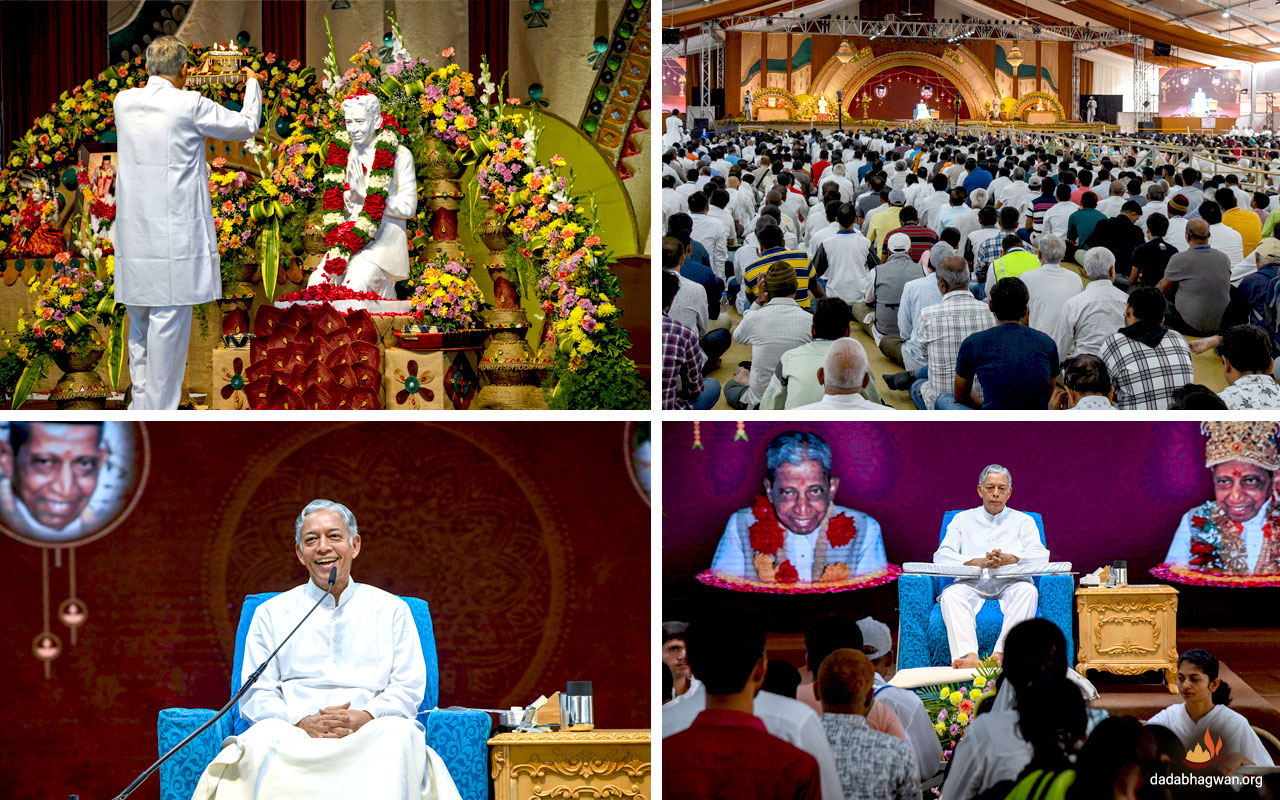 On the Day of Janmajayanti, Nov 7, 2022, the atmosphere on the venue Ground was totally mesmerizing. More than 16000 people availed of Pujyashree's special darshan on this day and asked for special strength from Gnani to help combat their inner weaknesses that bog them down on the path of liberation.