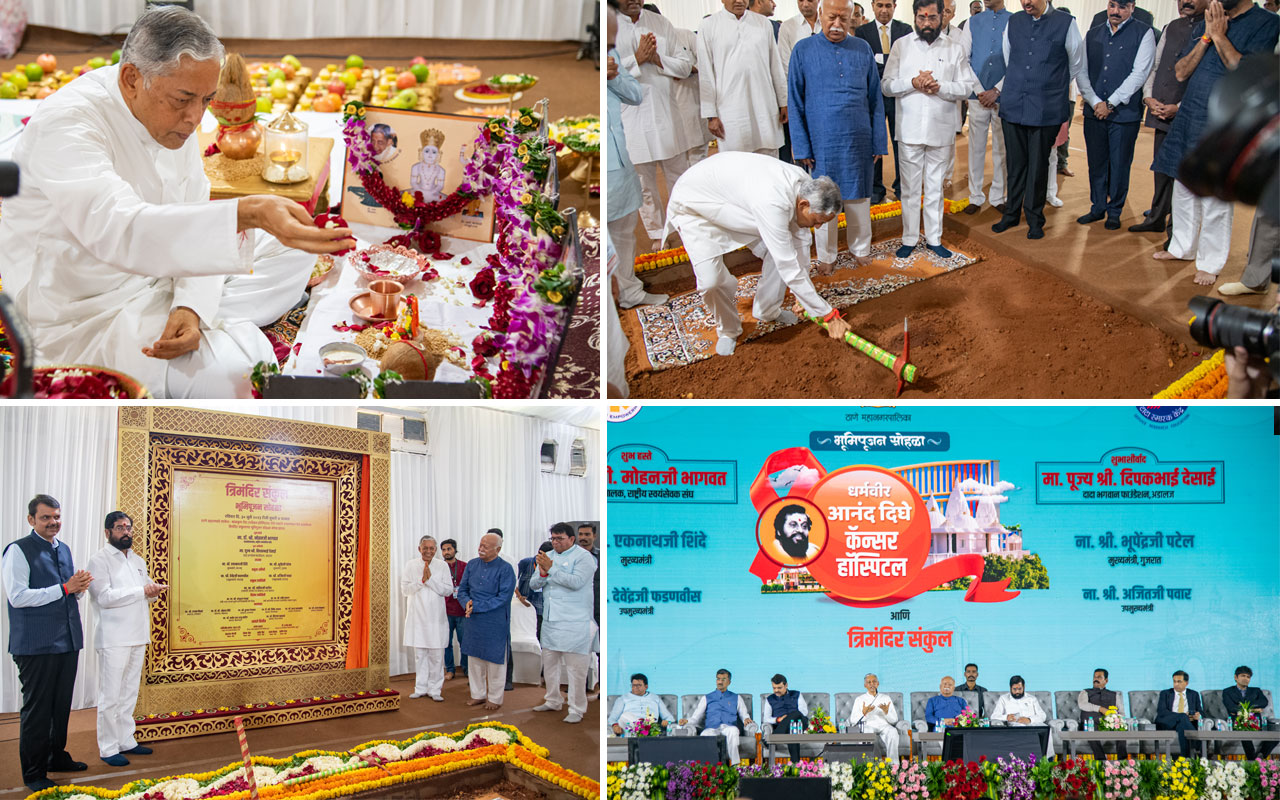 One more Trimandir coming up in Mumbai…
On July 30th 2023, Pujyashree Deepakbhai was in Mumbai, to perform the Khatmuhurat Ceremony of a grand Trimandir, proposed to be built here, in Thane, Mumbai, India. 
Also, Pujyashree was invited, along with Shri Mohan Bhagwatji, to perform the Bhoomi Poojan Ceremony of the Dharmaveer Anand Dighe Cancer Hospital, which is planned to be built under the care and supervision of Tata Memorial Hospital, in an initiative led by Jito, at this location in Thane. The Honorable Chief Minister Shri Eknath Shinde, the Honorable Deputy Chief Minister Shri Devendra Fadnavis, Shri Ajit Pawar, and other respected Ministers and Leaders were also present on this occasion. The temple will be located next to this Hospital, and underneath, there will be a large satsang hall too. 
Trimandir, as many of us know, is one-of-a-kind non-sectarian temple, inspired by Param Pujya A. M. Patel, also known as Param Pujya Dada Bhagwan, who believed that until 'yours and mine' quarrels persist in religion & society, there cannot be peace in the world. The Dada Bhagwan Foundation has built several such Trimandirs in different locations, including one in Borivali, Mumbai. This Trimandir will turn out to be a wonderful turning point in many people's life, as Pujyashree Deepakbhai, in His compassionate voice, mentioned this day that, 
"Cancer hospital mein rogo se mukti milegi usko aur Trimandir mein anant avatar se sansar rog mein hum bhatke hai, usme se mukti milegi."
meaning
"At this Cancer Hospital, one will gain freedom from the diseases in his body, and at Trimandir, one will gain freedom from the 'world disease' because of which we have been wandering since infinite lives."