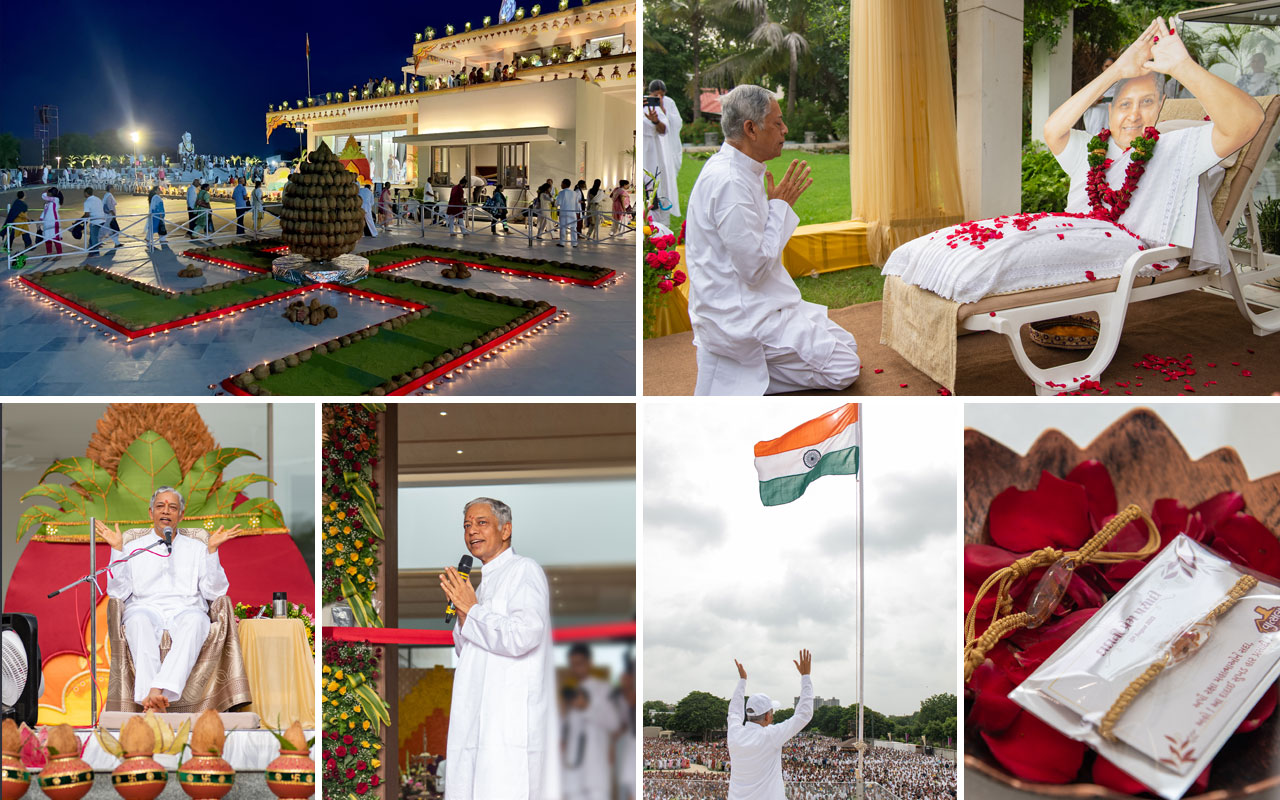 On the occasion of the opening ceremony of New Vatsalya – the heart of the AptSankul residence – an exhilarating and soulful celebration was done by all the Mahatmas in the presence of the present Atmagnani Pujyashree Deepakbhai Desai.
As a part of the pre-event preparations for this auspicious event, on 14th of August, thousands of Mahatmas, made an offering of coconut and green grams, along with their heartfelt prayers, into the large Saathiya (the swastik symbol), that was designed in the courtyard of the Vatsalya. On August 13th, a Gnan-Vidhi Ceremony was held for the spiritual seekers, wherein 2090 people attained Self Realization (Atma-Gnan). Thereafter, on August 14 and 15, more  than 15000 Mahatmas from various places joined in for the event of Vatsalya opening.
In the early morning of the 15th August, Pujyashree Deepakbhai did the Darshan at Trimandir and Niruma's Samadhi, followed by darshan of Param Pujya Dada Bhagwan and Pujya Niruma at the old Vatsalya in Simandhar City. From there, began the grand Shobhayatra (procession) with 108 Kumarikas walking ahead with Kumbh on their heads. In this Shobhayatra, AptSankul Bhaio-Beno and Brahmachari Bhaio-Beno joined Pujyashree Deepakbhai. The grandeur of this grand Shobhayatra was enhanced by the beautiful dance performance of 250 children of Amba School for Excellence.
After entering the Sankul Residence, Pujyashree Deepakbhai did Darshan of the huge idol of Simandhar Swami. Amidst the humming of devotional songs, Pujyashree Deepakbhai did the honors of cutting the ribbon and thus marked the opening of the Vatsalya. Thereafter, with the worship and installation of 11 Kumbhs, and the Aarti of Tirthankar Prabhu Shri Simandhar Swami and Param Pujya Dada Bhagwan, Pujyashree Deepakbhai's auspicious entry happened into the new Vatsalya.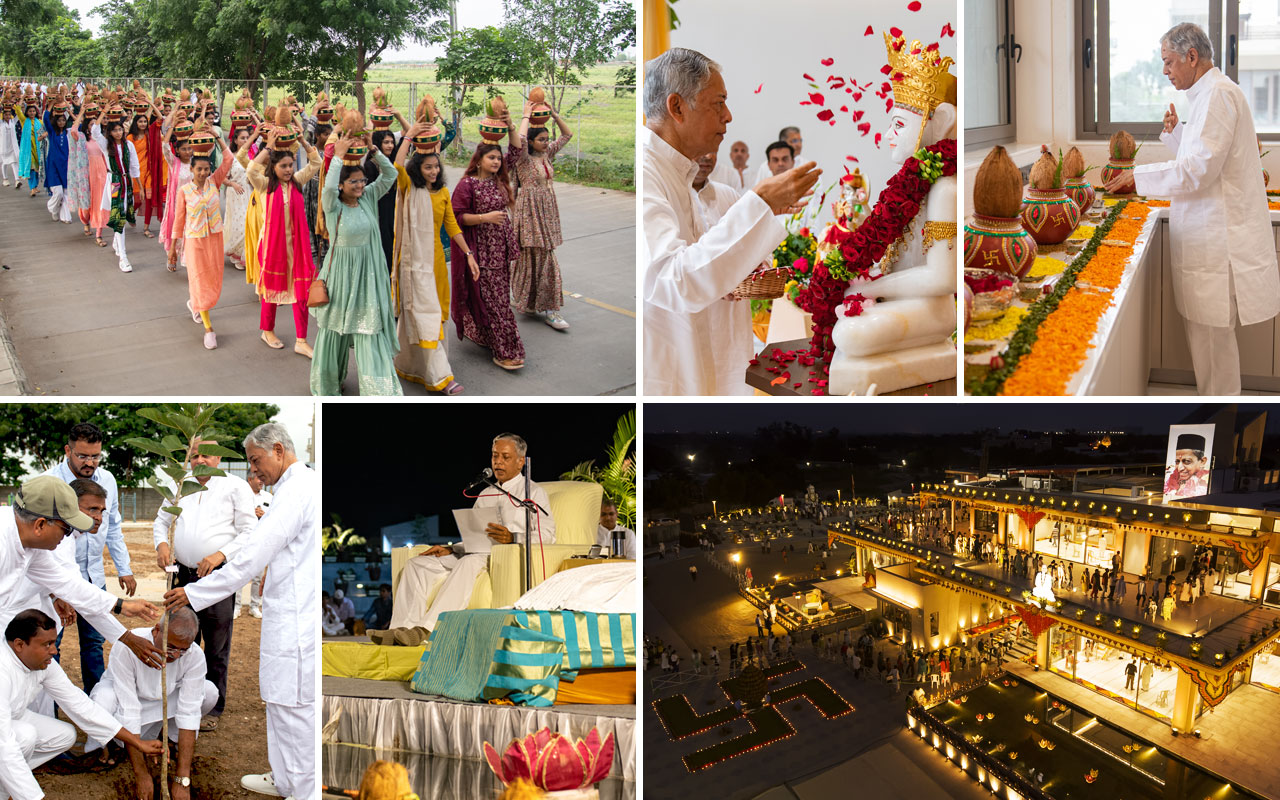 Then came the mention of the eagerly awaited 'unimaginable gift' for the Mahatmas. In the invaluable gift of Rakhi are the pieces of sandalwood garlands, worn by Param Pujya Dada Bhagwan, and such Rakhi would be gifted to every Mahatma who would come to do the Vatsalya Darshan. Listening to this, the entire campus resounded with loud and cheerful applause. 
15th August being India's Independence Day, the local security staff did a parade and Pujyashree Deepakbhai hoisted the national flag. In the morning, after an hour-long Kirtan Bhakti, a special video based on the virtues of Param Pujya Dada Bhagwan was shown. For the Mahatmas, 'Mahaprasad' arrangements were also made, morning and evening.
Thereafter, the gates of the new Vatsalya were opened for the Mahatmas, who flocked in for Darshan of the premises from morning to evening. Approximately 15000 Rakhis were distributed to the Mahatmas. Late evening, the Bhakti programme conducted in the presence of Pujyashree Deepakbhai marked the end of this event. Countless Mahatmas who could not make it to this event, joined in through the live webcast while sitting in their homes.