Thursday November 25, 2021
It was 17th of November 2021 morning, and the clock was about to strike 10!
Cool breeze was blowing, every face was glowing, perfectly poised, without any noise, hundreds of eyes, waiting to behold those divine eyes that hold the amazing power of salvation of mankind. Yes, it was time to get to see Pujyashree! After two long years, the wait was FINALLY about to get over!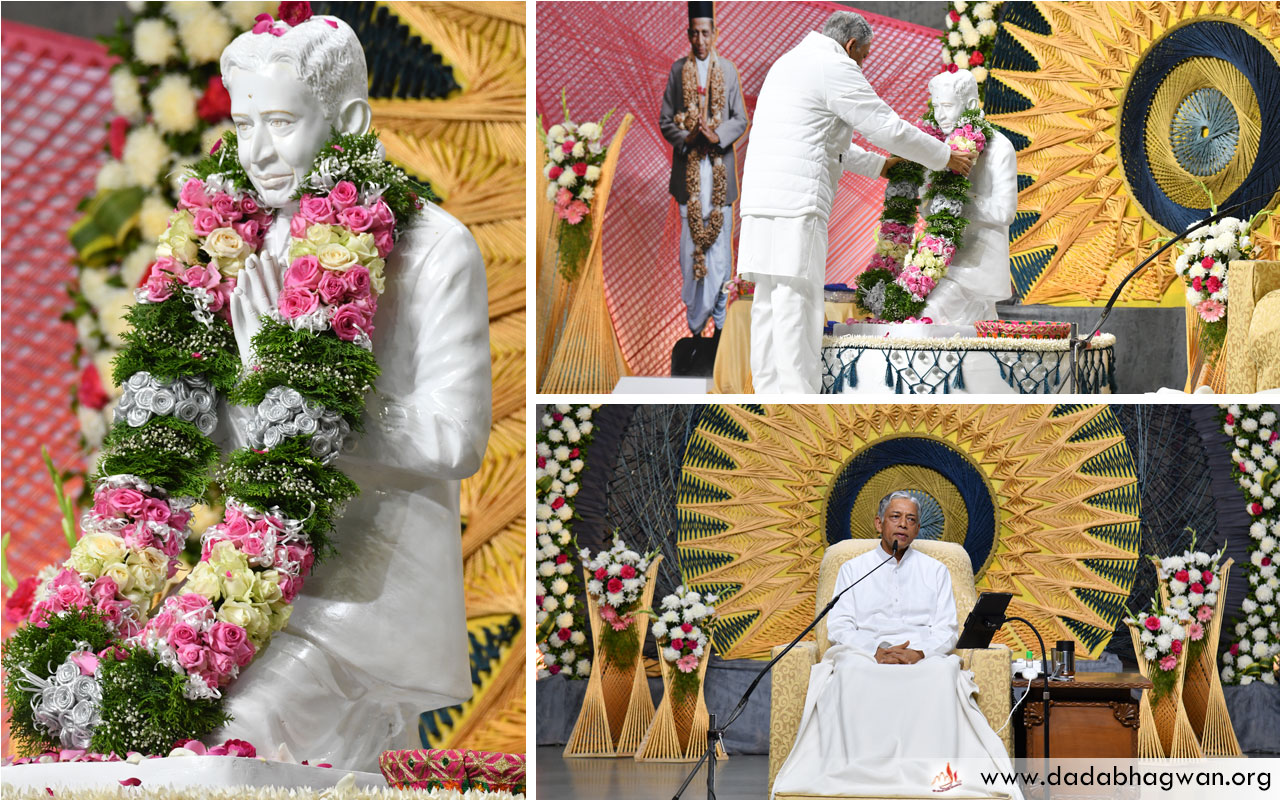 'JJ114' - there couldn't be a better occasion than this for the thousands of followers, to release their locked emotions of devotion for their beloved Gnani after almost two years post-lockdown, following the COVID pandemic. People from different parts of the country and the world had gathered on the sacred soil of Adalaj to celebrate Param Pujya Dada Bhagwan's 114th birth anniversary!! 
Most of the people attending this event have never seen Param Pujya Dada Bhagwan, live. But the manner in which the unique and ubiquitous Akram Vignan is influencing and transforming every aspect of their life, every person feels greatly indebted to Param Pujya Dada Bhagwan for having gifted this Vignan to the world; and they feel equally indebted towards Pujya Niruma and Pujyashree Deepakbhai (in whom people can see their Dada Bhagwan 'LIVE' Pratyaksh) for tirelessly helping each one understand and practice this beautiful science in its right spirit!
The event lasted for five days, Nov 17 – 21, which included Q&A Satsangs that happened daily twice a day, and light entertaining spiritual programs of Bhakti, Video film and Garba were conducted in the evening every day.
18th November 2021 was the Big Day of Param Pujya Dada Bhagwan's Janma Jayanti, celebrated with utmost faith and devotion, and great enthusiasm and fervour. Pujyashree Deepakbhai did the Pujan-Aarti of Param Pujya Dada Bhagwan and on behalf of all of us, bowed in the lotus feet of Param Pujya Dada Bhagwan and garlanded Him. The biggest attraction of this day was the 'Darshan' of Gnani, a priceless gift distributed by Gnani for the benefit of all! The atmosphere was truly electrifying. Followers, while sitting in the presence of Gnani, also sought strength to come out of the specific weaknesses that still have a stronghold on them and hence are not allowing them to progress at the pace they wish to.
The Q&A sessions were simply awesome. Each question signified one's unflinching desire to liberate, and each answer prescribed the exact scientific understanding one ought to imbibe so that we can be liberated easily and happily. It was an interesting sight to see every questioner put forth their question with a worrisome expression, and in a couple of minutes, they are wearing a smile, relieved of all tensions! The magic of Gnani was in the air, as it solved and resolved every query, every fear, every concern and incredible miseries of the masses!
This event also saw the launch of the Dada Bhagwan TV - a Smart TV app, which works on the Smart TV as is, and on an ordinary TV, with an Android TV stick or a Fire TV stick. This app thus opens up one more avenue to enjoy the Akram Vignan resources from.
'Hindi Swaramna – 6', a new collection of Param Pujya Dada Bhagwan's melodies in Hindi, too was released online. We can access these songs and listen to them anytime, and can also download them for free.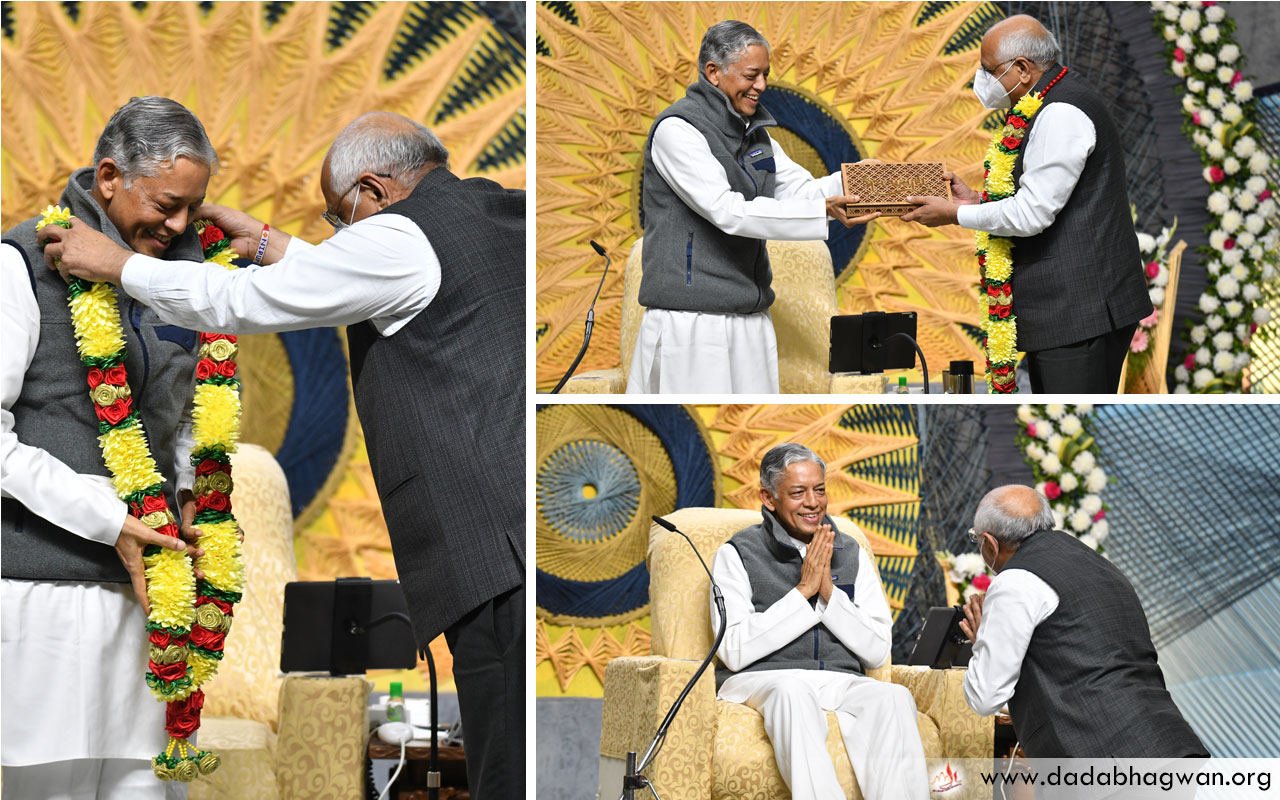 On this auspicious occasion, the followers of Param Pujya Dada Bhagwan got an opportunity to welcome one more Dada Bhagwan's follower, Shri Bhupendrabhai Patel, the newly-elected Honourable Chief Minister of Gujarat. Sharing his experience before everyone, he said that his awareness as a Pure Soul has enhanced even more amidst the busy life and the new responsibilities that he had not asked for, but has been entrusted with. All the followers offered him their best wishes and Pujyashree gave him special blessings for rendering his honest services for the welfare of the people of the state.
The mega-event ended with Gnan-Vidhi, a Bhed-Vignan process to help spiritual seekers attain Self-Realization. It was an icing on the cake as both, the old as well as new followers enjoyed this program, conducted by Pujyashree, in person, after a very long time, owing to the Covid situation.