Sunday September 10, 2023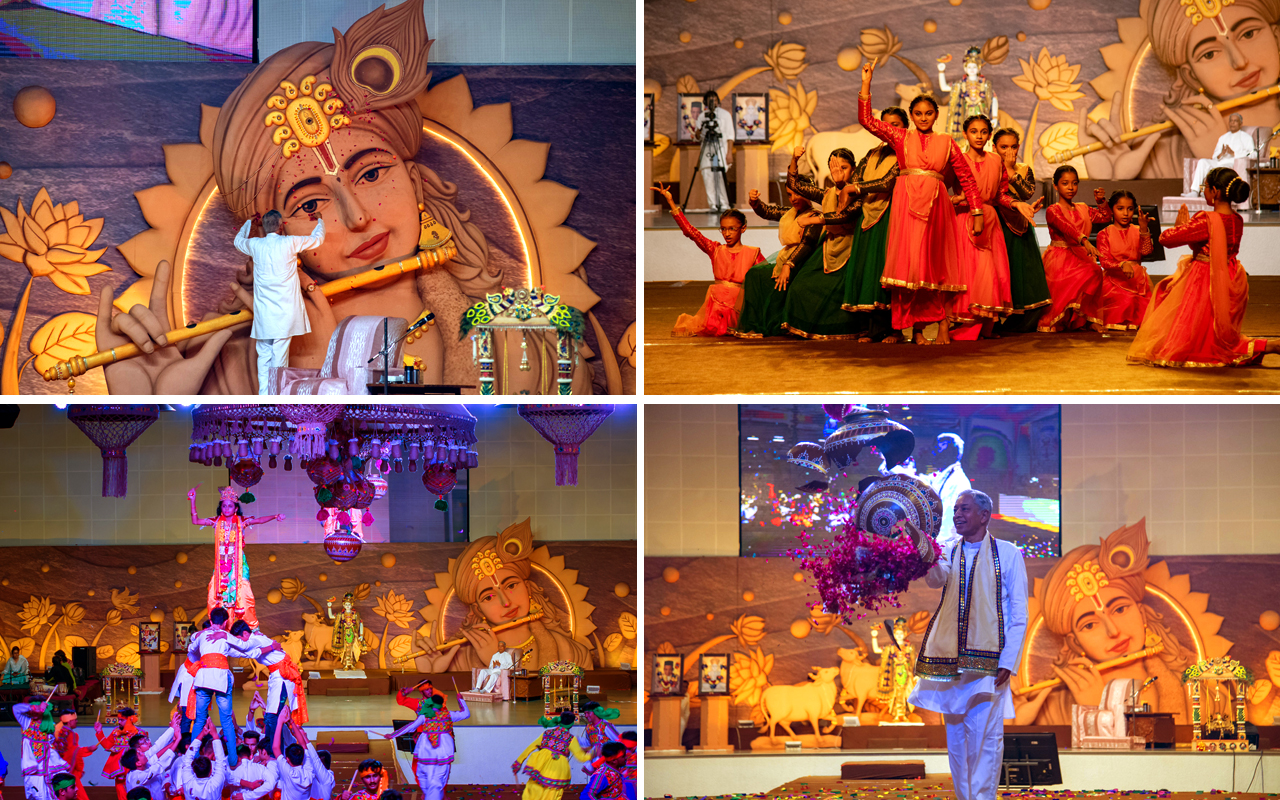 On September 7, 2023, the Janmashtami festival was celebrated in Adalaj, gujarat with great enthusiasm and fervour. In the non-sectarian temple of Trimandir, inspired by Param Pujya Dada Bhagwan, right from morning, the devotees poured in to do the darshan of Lord Shri Krishna.
The entire temple was specially decorated on the occasion of Janmashtami festival. More so, in the inner temple of Shri Krishna Bhagwan, Shri Krishna Yogeshwar, Shreenathji, Bal-Krishna, Tirupati Balaji and Garudji; the decoration of all the forms of the Lord were so attractive, so as to captivate the devotee's consciousness. Several visitors, big and small, did the darshan while rocking the cradle of Baal-Krishna, located in the inner temple of Shri Krishna Bhagwan.
In the evening, at 5 pm, AtmaGnani Pujyashree Deepakbhai arrived at Trimandir to do the darshan of all the Lords. Thereafter, until about 6.30 pm, all the visitors who had come to do darshan in the temple got the benefit of Pujyashree's Drashti-Darshan. In the campus of the Trimandir, a telecast of a special short film, "Krodh Ki Shodh (Search of Anger)" was arranged for throughout the day, wherein the reasons behind the passion for anger and ways to overcome it were served in a very light and entertaining way.
From 9.30 pm, a special Pad-bhakti programme was organized at the Dada Nagar Convention Centre, where after showing the film, "Krodh ni Shodh" in the beginning, echoed some melodious devotional songs reminding of Shri Krishna's virtues.
Along with devotional songs, a cultural and musical programme depicting Shri Krishna's life sketch was also organized. And thereafter was the Raas-Garba and Matki-fod celebration, performed by the Y-boys. Pujyashree Deepakbhai did the honours of breaking the pot (Matki-fod) and in an environment charged with devotion, Lord Shri Krishna's birthday festival was celebrated!