Sunday September 11, 2011
iSTAR-2011 (International Spiritual Teen Akram Retreat) was held this August successfully for the second year running. The response was overwhelming, with 50 teenagers coming to Simandhar City from various countries: USA, UK, Kenya, Dubai, New Zealand, Abu Dhabi and Singapore.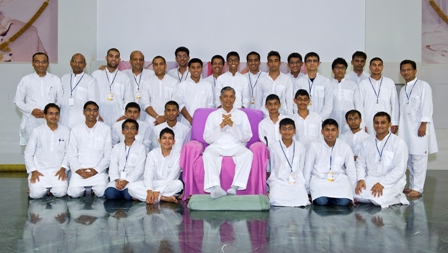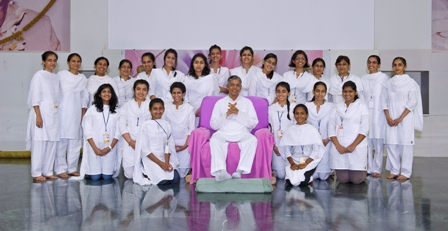 Over the fifteen-day retreat, they learned and experienced Spiritual Science, Indian Culture, Keys to Happiness through Positive Thinking and imbibed Scientific Understanding through Satsangs, Seva Activities, Sports and an exciting 5-day Tour.
The retreat was divided in two parts:
(1) The first half took place in Simandhar City, whereby the participants experienced bliss by interacting with various groups of people: Aptaputra bhaios and behnos; Sevarthi Mahatmas; Young MHT Boys & Girls and Pujyashree Deepakbhai.
(2) The second half consisted of a 5-day Tour to North India. The tour covered culturally and spiritually monumental places like India Gate, Mahatma Gandhi Smriti, Lotus Temple, Swami Narayan Akshardham (All in New Delhi); the Taj Mahal and Red Fort in Agra and finally, Jaipur visiting the famous Jantar-Mantar (scientific clock designed on Sun rays). In Jaipur, the participants had a once in a life-time opportunity to get a glimpse of The Making of Simandhar Swami from raw stone to sculptures. They got to understand the whole process of Swami's Pran Pratistha by Pujya Niruma and Pujyashree Deepakbhai.
The interactive sessions during the retreat were based on daily-life situations covering topics such as: Positivity, Avoiding Bad Company, Peer Pressure, Effects of wanting to make an Impression on Others, Imagined Negativity and Unhappiness. These sessions were delivered in fun-filled ways through activities, games, presentations and discussions including question-answer sessions with Aptaputra bhaios and behnos and Pujyashree Deepakbhai Himself. This year the participants were also offered a chance to learn Gujarati and by the end of iSTAR some of them were successfully reading a page from Pujya Dada Bhagwan's spiritual books.
The iSTAR Participants were very privileged (punyashali) to attend the celebration of two auspicious Indian religious events: (1) Rakshabandhan and (2) Lord Krishna Janmastami in the presence of Atma Gnani Pujyashree Deepakbhai. They all received a special Rakhdi (wrist band) blessed by Pujyashree to tie on their own wrist as a protection from The Gnani Purush for their spiritual progress to Moksha. The Janmastami evening began with devotional Aartis at the Tri-Mandir and the evening turned to night as the participants joined in singing devotional hymns to Lord Krishna. Everyone was thrilled with the grand finale of Pujyashree performing the traditional act of breaking the Matki (pot of butter) a mark of Lord Krishna's birth.
Finally, everyone asked for forgiveness (Pratikraman) for any hurt caused knowingly or unknowingly towards anyone during the 15-day retreat. They shared their wonderful experiences and shared useful suggestions for the next iSTAR retreat. The 2011 iSTAR participants bid reluctant farewells with the promise to return next year and for years to come, either as a Participant or as a Coordinator. They felt that through this blissful retreat they experienced a lot with Fun and Gnan, which would help them to live a balanced life by applying Pujya Dadashri's Spiritual Science in day-to-day situations with the ultimate goal to attain Moksha.