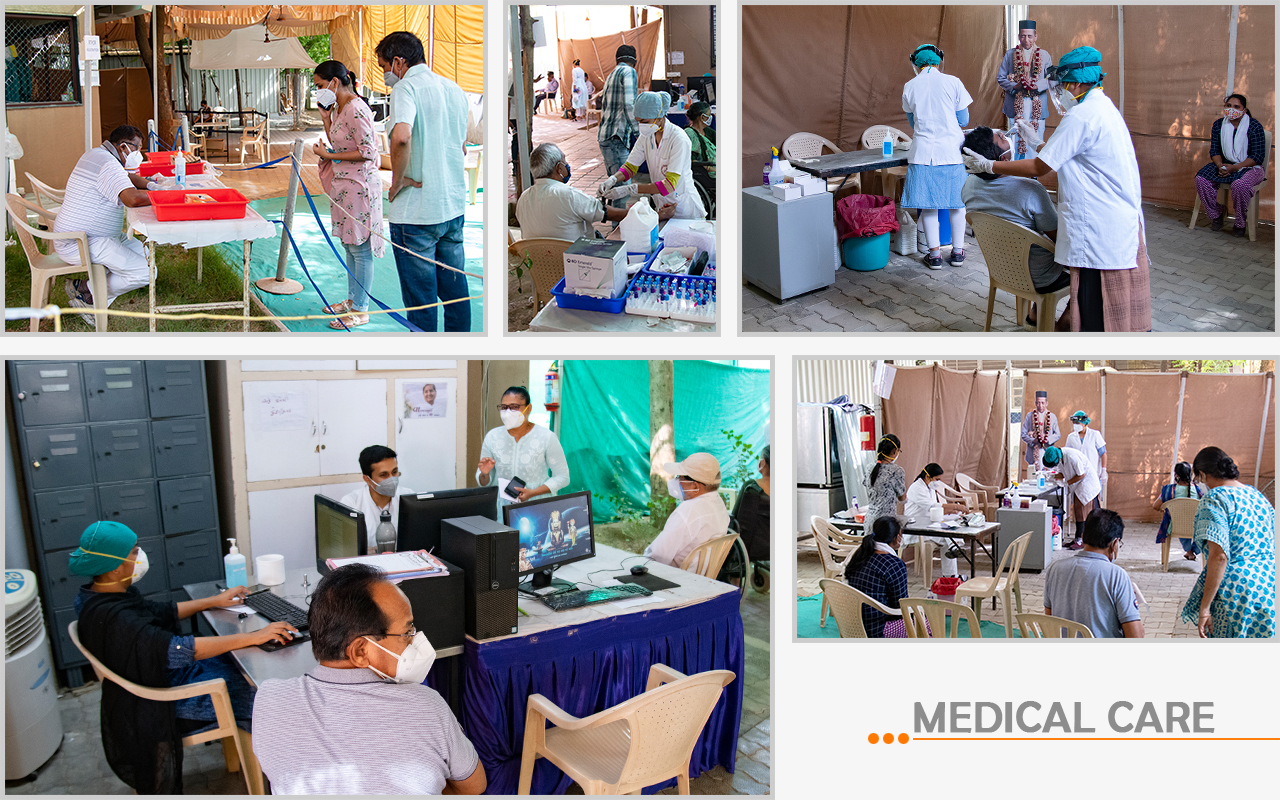 As the second wave becomes nastier than the first wave in India, it has triggered many challenges for its healthcare system and its yet-to-recover economy. However, it has not restricted what humanity can do to give as much selfless relief as possible to the struggling COVID patients. This is being felt right now in Adalaj, a small town in Gujarat wherein the Dada Bhagwan Foundation (DBF) and its sister concern, the Amba Health Care and Hospital (AHCH) are serving both local and remotely located  patients across India 24x7.
With the tagline of "Manav Mandir ni Seva" meaning service to the human body that is considered a temple, and with the principles of compassion, purity, and sincerity, AHCH's and DBF's COVID relief measures are going on in full force. Nothing seems to shatter their hope or relief initiatives; not even the shortage of medicines or staff!
The frontline and secondary warriors, of which many are volunteers, just do not look for time, food, rest, and other basic needs; as they only focus on the effective recovery of the patients while motivating their families to pray and persevere.
Above all, their noble intent is: "Treatment first, cost secondary; even if we manage to save one life, the whole effort and cost are worth it." Kudos to this team!!!
Medical & Social Care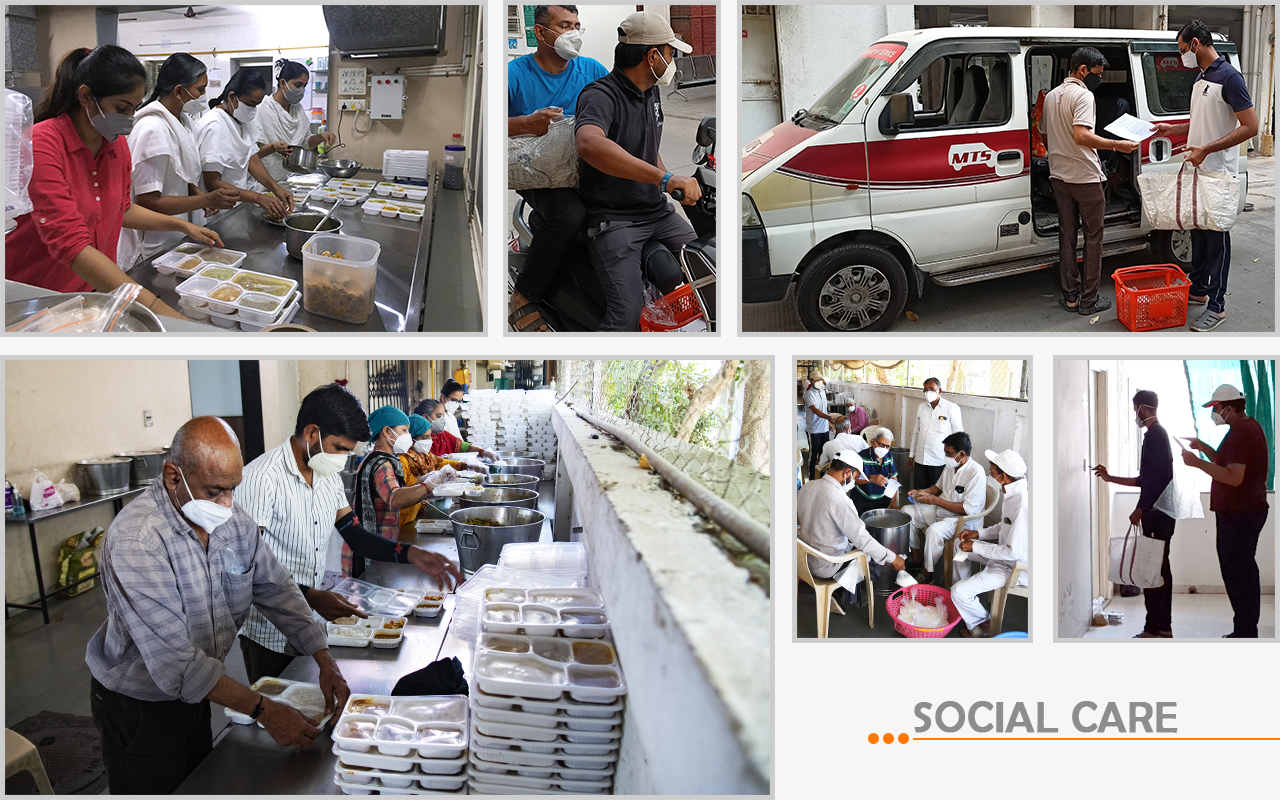 All residents are getting essential items at their homes. AHCH provides the facility of free home delivery of medicines to the people of The Townships. The local M.T.S Transport Service is also delivering 3 meals a day for the whole family at the doorstep as per the booking details received. Upon booking, even grocery is being delivered at the doorstep. This is done to prevent crowding anywhere in the Townships. 
Ambulance and MTS Transport facilities are provided to the residents of the Townships for COVID check-up and testing in AHCH. Daily RT and HRCT tests are done at reasonable rates for the people of Simandhar City, ATPL Township, and nearby areas for early detection. This ensures that the people of Adalaj do not have to travel to adjacent cities for these tests.
AHCH provides Day Care treatment when a  patient seems to have COVID ((low oxygen level and/or high temperature as symptoms) and is looking for assistance. Experienced doctors take care of such patients by giving timely treatment as well as guidance.
The doctors are relentlessly giving online free Telemedicine and Tele OPD consultation to the residents of  The Townships.
The AHCH team provides free essential health check-up devices such as pulse-oximeter, BP monitor, oxygen concentrator, and thermometer either free or on nominal rent.
A COVID Care Unit (CCU) with 25 beds has been set up recently in this small town, which is on the second floor of AHCH building. Here, severe COVID patients and those suffering from low oxygen are treated. Devices and equipment such as ventilators, high flow cannulas, and HDUs, oxygen cylinders are available. This unit has been set up with an aim of being self-sufficient in COVID treatments and giving homely treatment to the affected residents  in their locality so that they do not have to go outside for the treatment. For this purpose, specialized doctors and experienced paramedical staff have been recruited recently. The facility is planning to have more beds soon although dependent on various factors mainly, availability of doctors, intensivists, nurses, attendants, supply of medicines, oxygen, etc.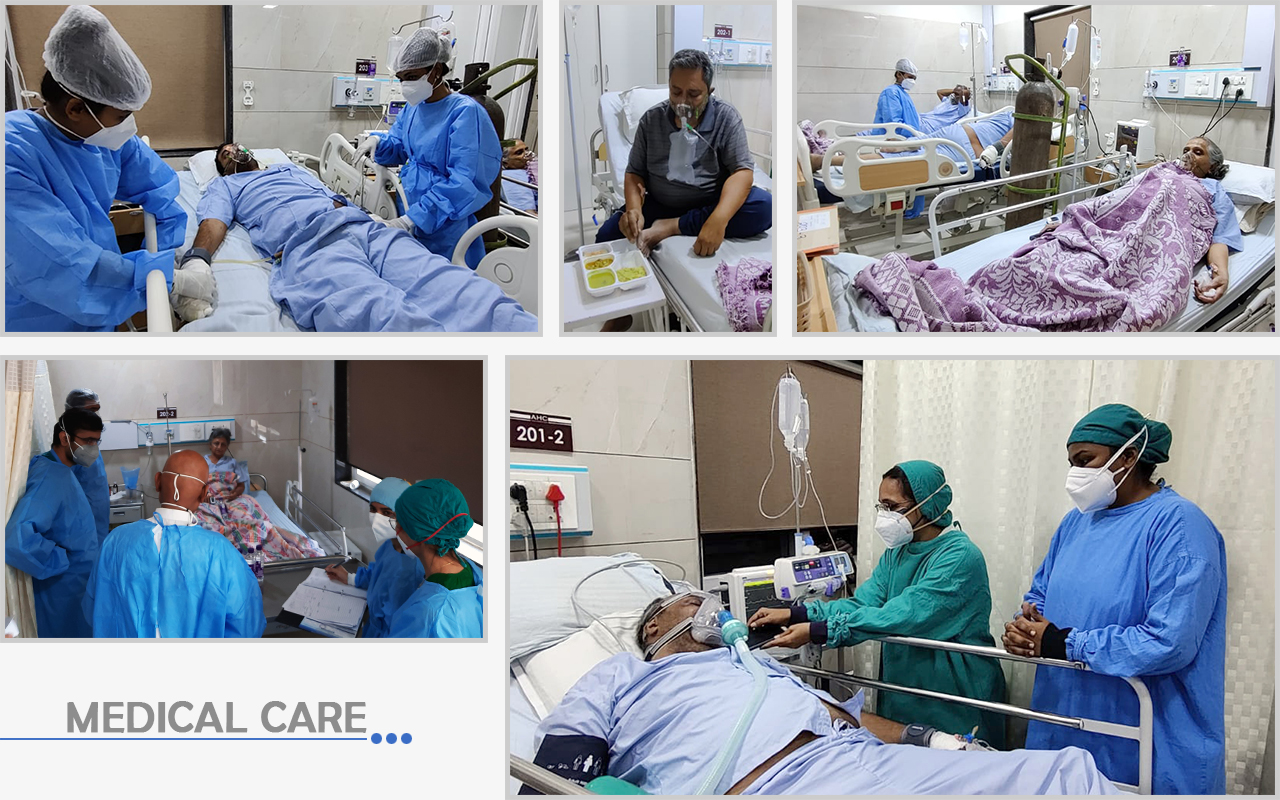 AHCH is providing home-based treatment with an oxygen concentrator, if required.
AHCH, a recognized COVID hospital, has recently purchased few liquid oxygen tanks so that it can provide piped oxygen when required. As the challenge is to have a regular supply of oxygen refills, there are jumbo oxygen cylinders and 80 oxygen concentrators as well. Despite facing the shortage of all types of essential COVID medicines and injections, dedicated teams are working around the clock to procure them.
For some cases that require additional care due to which they are treated outside AHCH, AHCH pays for the patient's treatment. Once discharged and fully recovered, the patient or family may choose to reimburse AHCH in part or whole; this reimbursement is not mandatory.
Each COVID patient gets a daily call from her or his doctor or coordinator for follow-up and health updates.
Sankul bhaio & baheno (a team of celibate men and women) call the affected patients or families to give them moral or spiritual support. Even the neighbors and building coordinators provide social and emotional support. This is done to make them strong and stable in tough times while preventing the risk of developing psychological issues.
AHCH medical staff, the Sankul, young celibate boys and girls and all Mahatmas are working as a team. By supporting the patients' local and remote relatives in this way and helping in getting all the medical essentials, the aim is to set the medical staff free so that they can concentrate on the patients.
Covidshield and Covaxin vaccination drives are being held regularly at the AHC Campus. Until now, around 2500 residents have been inoculated with the first dose.
Apart from the CME for doctors, AHC shares educational webinars, short videos, and useful literature to the community for keeping the residents updated on how to take effective care amidst the current COVID pandemic situation.
AHC doctors coordinate with renowned hospitals and their experts to handle critical COVID patients more effectively and stay updated about the COVID treatments. They have built a good rapport with various senior doctors.
COVID patients (mahatmas) are having SAMADHI MARAN (blissful death). A dedicated COVID Care team of youngsters has been set up for coordinating with their remote relatives and performing the final rites with heartfelt prayers.
Selfless Services Outside Adalaj
At different centres in Gujarat and other states across India, free Telemedicine support to COVID patients & Tele OPD Consultation for severe cases are being given. A dedicated team of professionals collects the basic data. Then, depending on the symptoms, some basic medicines are prescribed immediately. A quick review by doctors takes place and then a follow-up is conducted to know whether the patient needs more attention or not.
If it is required or the need of direct medical care is felt, the patient is advised to get admitted to a hospital in her or his city if adequate medical facilities are available. The patient is also asked to stay in touch with a local Mahatma doctor if possible. If facilities are insufficient in the patient's city, the patient is requested to come to Adalaj AHCH. If more help is required, AHCH arranges for a transfer via an ambulance.
Facing Tough Challenges
Despite facing a shortage of different oxygen equipment, professional staff, infrastructure, and medicines, everyone at the AHCH is working hard round the clock for saving lives. While serving, even doctors and volunteers are becoming COVID positive. However, more and more volunteers are joining the selfless drive and are working for extended hours to ensure a quick recovery.  
As many activities are taking place such as vaccination, COVID testing, emergency (non-COVID), COVID day care, essential routine day care, essential routine OPD, dental, and optical; several DBF departments have been scaled down to minimum staff for addressing only essential consultation/services. The remaining staff has now joined this local anti-COVID drive. Thus, it does not seem that there is a shortage of manpower while the cases are rising daily.
With the divine grace of Shree Simandhar Swami, Param Pujya Dada, Pujya Niruma, Pujyashree, and Celestial Beings, the dedicated teams at work are overcoming challenges effectively and the complete infrastructure has been setup unexpectedly fast.
According to a volunteered doctor, "We doctors are actually doing what we should be doing, which is saving lives and doing our best for the patients without thinking about our own selves in such a tough time. To see a "recovered" patient  being discharged is a wonderful sight."
The Ultimate Prayer for All the COVID Patients across the World
Pujyashree, our enlightened master, does vidhi (special prayers) for all COVID patients across the globe daily at 10 pm and one-to-one vidhi for those who are critical.