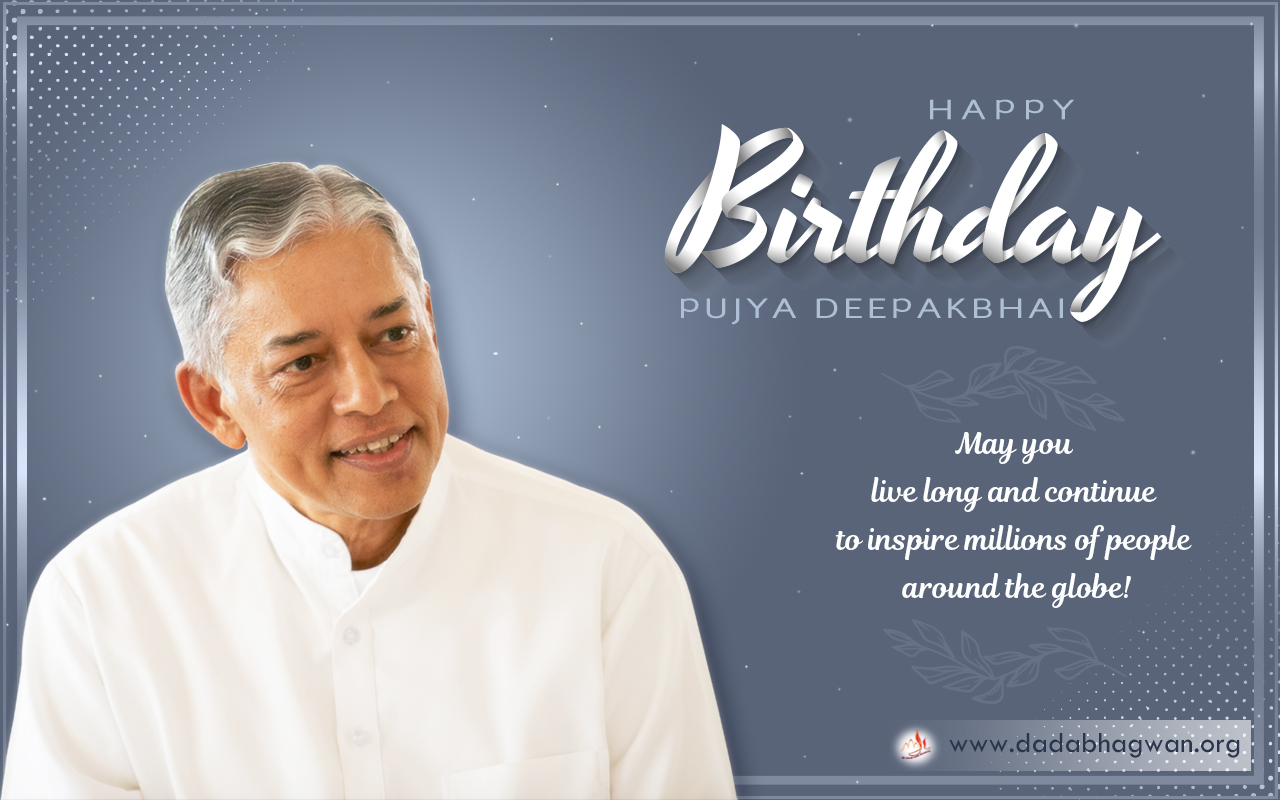 Happy Birthday Pujya Deepakbhai
Today, 9th May, is a festive day for one and all, as it is the birthday of our beloved Pujya Deepakbhai!
Pujya Deepakbhai holds a very special place in every heart. What exactly is the reason for that?
Let's find out by going through some interesting examples of Pujya Deepakbhai's life.
Pujya Deepakbhai Desai was a young mechanical engineering student, studying at VJTI College, Mumbai when He met Param Pujya Dada Bhagwan for the very first time, in 1971. An introvert guy, who used to shy away from all public appearances, has today become a powerful inspiration for tens of thousands of people around the world. This lofty achievement was not achieved overnight; it's a result of a sincere, dedicated and consistent effort over the years.
One of the virtues for which Pujya Deepakbhai is best known for is His SINCERITY
Pujya Deepakbhai says, "Sincerity means to 'stick to' it (the work you are responsible for). If you are slow, then work slowly. If you are fast, then work accordingly. But complete whatever work has been given to you…. My rule is, that sincerity starts from the time I open my eyes and from then on there is no slacking. (To my mind), the importance of work would be so much that my sincerity towards it would override the normal routine like eating, drinking, sleeping and going out."
Such is the value of sincerity in Pujya Deepakbhai's life!
Even Param Pujya Dadashri often praised this quality of Pujya Deepakbhai, "Deepak has a great virtue of sincerity. Whatever He does, He will do it sincerely, till the end. This sincerity will take Him to great heights!"
Pujya Deepakbhai sincerely believes, 'If I remain sincere to my work, then even the work will remain sincere to me.' One day, while sharing His experience of His early days of working as an engineer, He said, "I used to repair the machines with such sincerity that they shouldn't get damaged when I am away for satsang for 3-4 months."
Since the day He met Param Pujya Dadashri, one seva that has always remained with Him is the editing of books on Param Pujya Dadashri's speech. "I plan my work in such a manner that it becomes convenient for whoever takes my place in the future. This way I am sincere towards the person and the work", says Pujya Deepakbhai.
To be sincere to work, in a manner so that nobody faces any problem related to it, in future – this extraordinary gesture certainly highlights His foresight and vision related to the task he has been assigned, but at the same time, it also reflects upon the love, respect and commitment that He has for this important seva and for the people who are and who will be involved in future with this seva which He has been entrusted with.
Even today, Pujya Deepakbhai works relentlessly on any work that requires His approval to proceed ahead. "I never look for my own convenience, I work twice as hard, but Mahatmas should get the things at the right time. To keep up to their time is sincerity" - these are the words and feelings of our Revered Pujya Deepakbhai, who all the time, remains concerned about other's convenience first!
Also, ever since He attained Gnan (Self-Realization) from Param Pujya Dadashri, he has always remained sincere to Gnan in all ways; that's indeed the secret of His good progress and having attained great spiritual heights.
Friends, these were some small glimpses of Pujya Deepakbhai's life, from which we come to know about His extraordinary Sincerity. Moreover, we got to learn that being sincere doesn't only mean completing our task on time, it implies being sincere to everyone and everything one comes across in life, be it people, machines, work, knowledge, concern for others, anything. Thus, this sneak peek into Pujya Deepakbhai's life has given us a much bigger meaning of this word.
Today, being the birthday of our beloved Pujya Deepakbhai, let us all wish Him a very long and healthy life, and may He continue to inspire millions of people around the world with His virtues, and help spread the priceless Gnan (Self-Realization) in every corner of the world, throughout His life!