Guru Purnima 2023
Every year, the full moon day in the month of Aashaadha (as per the Hindu calendar) is celebrated as the Guru Purnima day!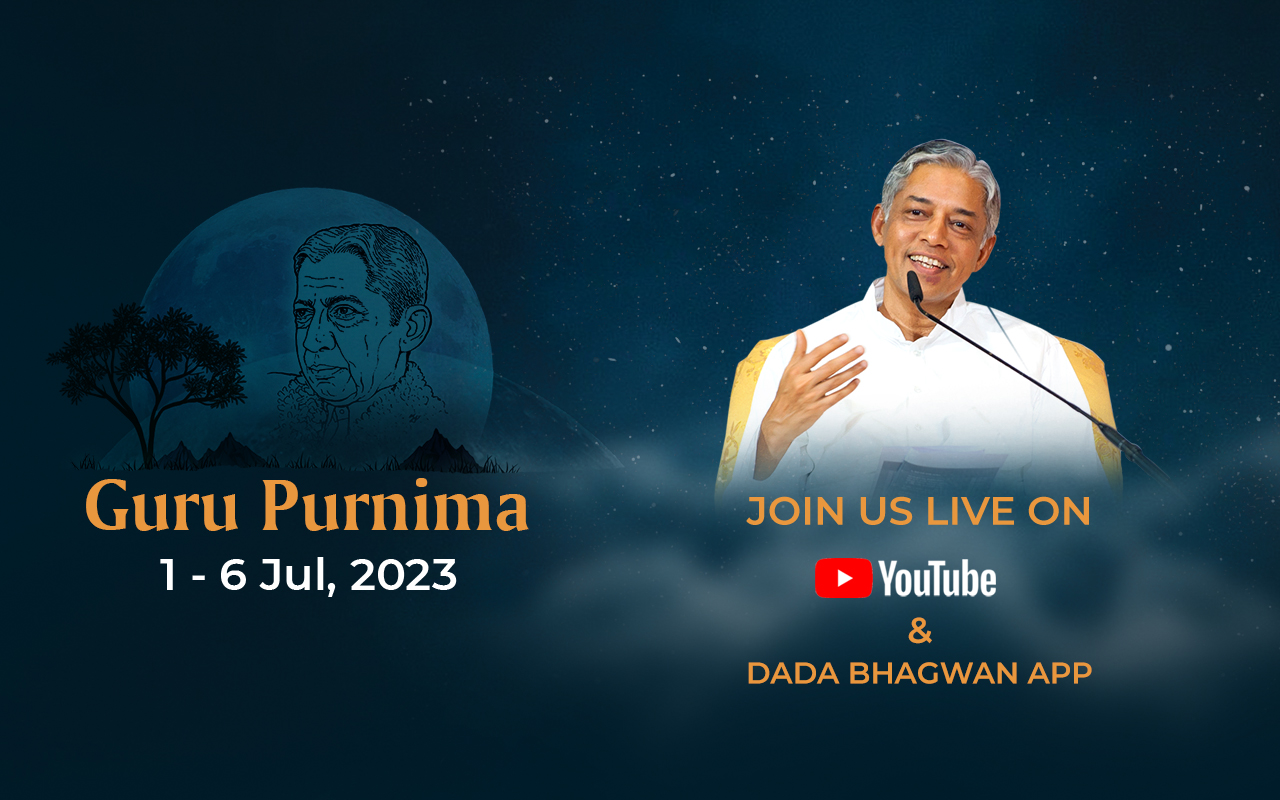 Why do we celebrate guru purnima?
This is a significant day for all spiritual seekers or disciples, as it is the time to worship their Guru. It is the day of praying and asking specifically for their lacking strengths, which are otherwise required to progress on the spiritual path. It is also the day when one's spiritual resolutions gain more strength by the grace of the revered Guru when prayed for the same. 
Disciples feel blessed upon recalling the specific preaching of their Guru that helped them identify their weak areas or inspired them to get stronger to combat the obstacles on their path of progress. They feel connected with their Guru like never before. 
This is the beauty of the day, for every Guru Purnima rekindles in the heart of each disciple a spirit of pure surrender of one's ego into the lotus feet of his Guru, the benefactor of spiritual knowledge. This event gives each one an opportunity to express gratitude and reverence toward the Guru, who very tenderly have held their hands and helped them cross the chasm from the darkness of ignorance to the light of knowledge. 
Significance of Guru Purnima
Param Pujya Dada Bhagwan says, 'Guru is the one whose very sight makes our heads bow.' Just upon seeing him, our head will bow. That is why if one is a guru, then he must be such that he dissolves all egos. Then you can attain liberation, but not otherwise. 
Guru looks after you in every situation that you get placed in, while in His association. He inspires you, guides you, protects you and ensures that you rise above all the difficulties that come your way and reach your ultimate destination. Guru is a beacon of light so that we don't get lost; a beacon of faith such that we never lose hope.
Only the one who is living and present can help you, so on this auspicious occasion of Gurupurnima, let us all take this opportunity to resolve that we shall always be sincerely willing to listen, accept and introspect upon whatever our Guru points out to us, as His ultimate goal is our spiritual progress.
Guru Purnima Celebration at Dallas, USA.
Like every year, this year too, the Dada Bhagwan Foundation together celebrated this auspicious occasion of Guru Purnima in the divine presence of Pujyashree Deepakbhai Desai, the living Gnani, on 3rd July in Dallas. 
On this day, Pujyashree gave a useful and practical message to be followed by all Mahatmas (Akram Science Followers) across the world until the next Guru Purnima day. This message was, 'With Gnan, see pride (maan) separate from You'. When one does not have Gnan (the right knowledge of the Self), in that state of ignorance, one is always seated on the foundation of pride. It is only after the Gnan, gained from Self-Realization, that things begin to change. 
Now, to see pride separate, it is important to first recognize it. For instance, a disliking toward being insulted or even the fear of being insulted is a symptom of pride. In many cases, the hunger for pride is so severe that if even a trivial insult happens, one decides to leave the spiritual discourse sessions (Satsangs) and even leave the Spiritual Path and drift away from that person who insulted. Furthermore, negativity may arise.
Pride deforms one so much that one gets desperate for fame, keeps hunting for it here and there, runs behind it trying to set an impression upon others, then gets greedy for praise and applause, and gets intoxicated with the ego, "I am something, I know everything." Now, if some insult or abuse comes, one feels like running away from there. One protects pride so much that one gets ready to break even the most precious or beneficial relationship instead of leaving this pride.
Therefore, recognize pride and see it separate so that it dissolves with Gnan!!!
Pujyashree further humbly upheld that once the pride dissolves, we experience Moksha here itself! So, we will remain aware; we don't want to leave Satsang; we don't want to leave Seva; we even don't want to leave Dada; we want to leave this pride. Such was His compassionate guidance, reiterating each detrimental action, triggered by pride, to be avoided for progressing toward salvation!
Thereafter, Pujyashree narrated the Jagat Kalyan Samayik (a short prayer for the salvation of this world). Amidst the chanting of prayers and hymns, all devotees, along with Pujyashree, did ritualistic worship (pujan) and waved lamps (aarti) in front of Lord Shree Simandhar Swami and Param Pujya Dada Bhagwan, followed by Pujyashree's darshan wherein a live connection with Him was established through eye contact.
This event shall continue until 6th July, 2023. So, in case you've missed the beginning, you can still join in for the remaining sessions. 
Registration Link: https://usevents.dadabhagwan.org/