Monday September 24, 2018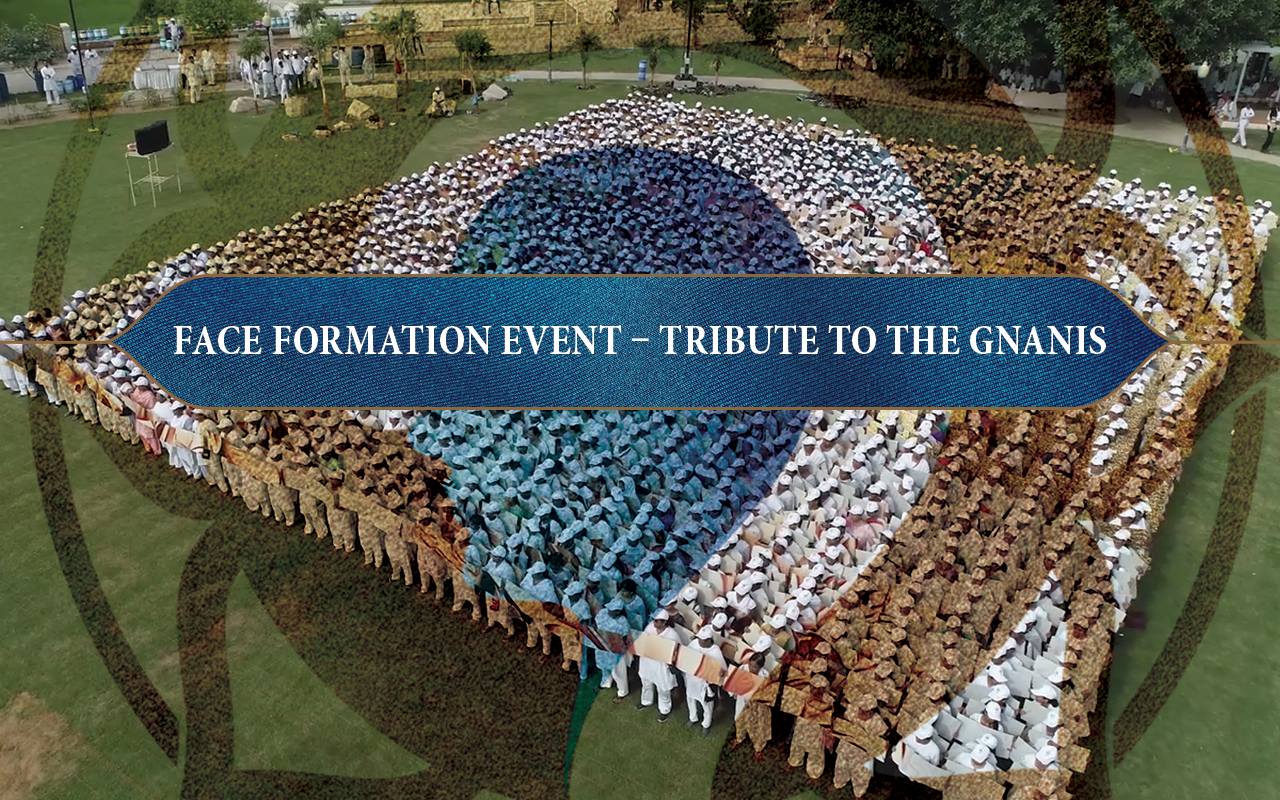 We've all heard the saying, 'Where there's a will, there's a way'. Now just imagine the will it took pull off an iconic face formation event. And this was just a precursor celebration to usher in Param Pujya Dadashri's Grand 111th Birth Anniversary Celebrations at the Jova Jevi Duniya event, which is scheduled from 15th to 25th November, 2018.
It took over 1000 hours of extremely meticulous planning and execution to achieve this feat. Once the plan was locked, members of the execution team were all set to transform the plan accurately into reality. Interestingly people from all over the world took part in this incredible initiative. More than 3000 participants were involved full-time in the preparation and final performance of the face formation. What a reflection of a team-work!
100 professionals choreographed and trained the participants to flawlessly execute the face formation. Several hours of dedication were put in by everyone who was a part of this grand tribute to the Gnanis. Many took time off from their work and travelled to Ahmedabad from different parts of the world, to be a part of this once-in-a-lifetime event. Moreover, people of different age groups contributed to make it a successful initiative.
This event was organized on the Independence Day of India, 15th August, 2018 in honor of three Gnanis: Akram Vignani Param Pujya Dada Bhagwan, the Embodiment of Pure Love Pujya Niruma and Living Gnani Pujyashri Deepakbhai, who have dedicated their entire lives for 'Jagat Kalyan'.
The 3000+ volunteers, who participated, stood at marked locations on the huge ground of Dada Bhagwan Foundation and held up placards with both their hands. Although it wasn't the easiest task to coordinate among so many people of various age groups, the devotion for the Gnanis and enthusiasm of the participants made the whole experience one that they will cherish for a long time to come.
The Face Formation of all three Gnanis and the logo of 'Jova Jevi Duniya' were performed with a lot of grace and dexterity. On the first round, Dada Bhagwan's face was formed and then it was flipped to Niruma's face. With the second round, Deepakbhai's face was formed, which was then flipped to create the huge logo of 'Jova Jevi Duniya'. As simple as it may sound, performing the face formation with over 3000 participants was undoubtedly a mammoth task which required a great deal of coordination. At the end of the day, through the efforts and commitment of all involved the mission was successfully accomplished.
History was created on 15th August, 2018, as this became the nation's first and largest face formation event. It was also the country's first flip animation event! What better tribute to the Gnanis, who have dedicated their lives towards transforming the lives of others, than this! Once this huge mission was accomplished, participants celebrated joyfully by doing the Garba on location and spontaneously depicted their unity.
This was the first milestone of the mega celebration yet to come. Depicting transformation, this face formation event is the ideal segue way to usher in the event that we are all waiting for.Jova Jevi Duniya!
Come, be part of this life transforming experience!
 https://www.youtube.com/watch?v=Xwrp3vxells