Wednesday December 14, 2022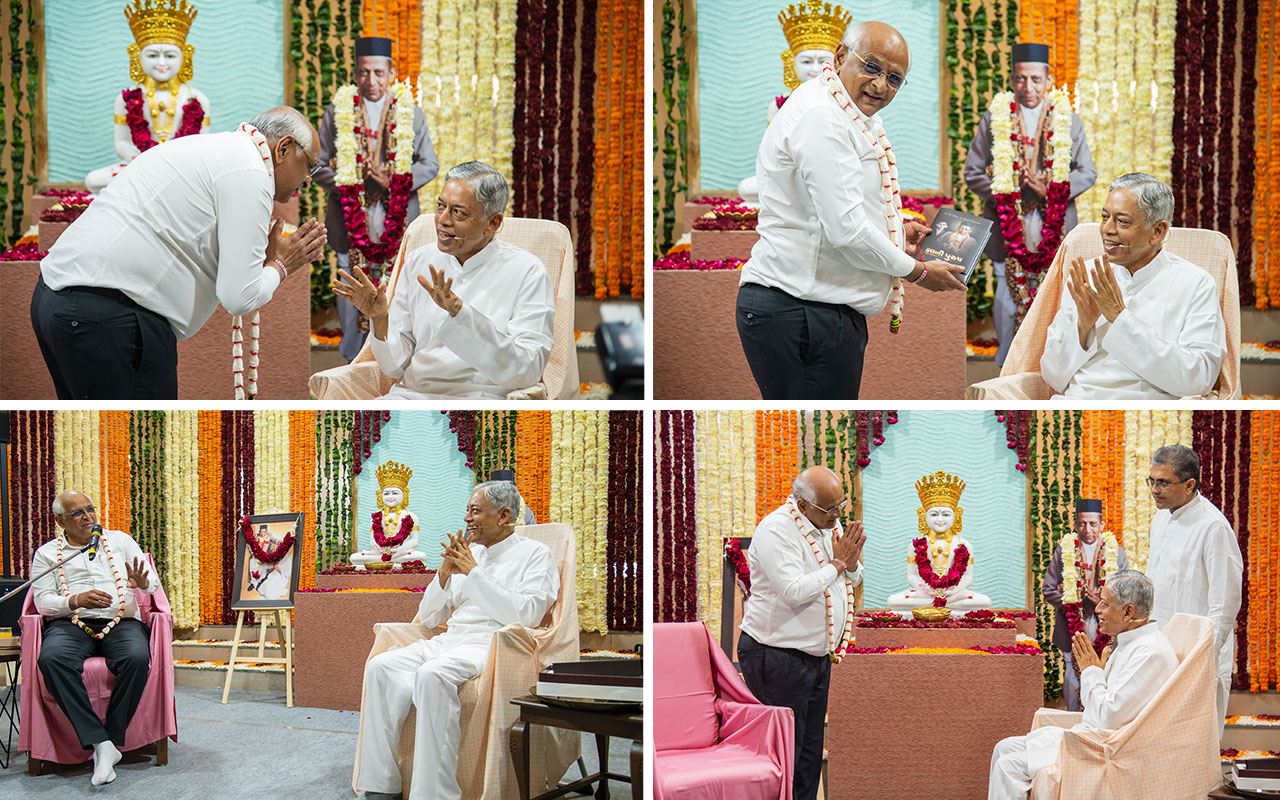 After the swearing-in Ceremony, Honourable Chief Minister, Shri Bhupendrabhai Patel, visited the Adalaj Trimandir Sankul to take the blessings of Pujyashree Deepakbhai Desai.
He was welcomed by the Sankul Members with great respect and love. Soon after, he garlanded and worshipped the idols of Lord Simandhar Swami and Param Pujya Dada Bhagwan there. The Chief Minister then bowed down in the feet of Pujyashree Deepakbhai to take His special blessings before resuming his duty for the second term.
Along with the blessings, Pujyashree Deepakbhai gave him a golden advice that,
"Without any desire for sex, money or power, proceed on the path of your duty, exercising due care to use the power you have been graced with for the benefit of all, reaching out to the smallest of the citizens. Stretch out your help to every person, in a manner that s/he gets relief not only from his worldly life sufferings but upto the point where s/he is able to secure even the ultimate peace.
Our blessings are with you! May you take forward Dada's jagatkalyan work to greater heights! And in response to the trust that the people of state of Gujarat have reposed in you, may you render a great service to them until your last breath."
Later, Pujyashree gifted him a momento and recommended that, "To recognize the Gnani Purush, very heartily, please do an in-depth study of this treatise, "Gnani Purush". This book includes various episodes from the life-sketch of Dada. May your life be spent in the service of public!"
Honourable CM shared with Pujyashree Deepakbhai that, "Our Honourable Prime Minister, Shri Narendra Modi, also insists that our perseverance should be such that even the smallest person in the society should not face any difficulty. So please bless me, so that I am able to render good service to people, with complete dedication and total purity."
Pujyashree Deepakbhai, in His humble words, suggested, "Yes, my blessings are with you! Ask for strength from Dada and all day long, do your work with that energy.
With the energy of Dada Bhagwan, with the blessings of Niruma, and with the help of Shasan Dev-Devis, may a lot of good work be done! Have prayed to Dada, and with all our blessings, may you go ahead with this work of lok-kalyan, without any interruption and without any hassle! Jai Satchitanand!"
Thereafter, CM Bhupendrabhai Patel went to Trimandir and worshipped Lord Simandhar Swami, Lord Krishna, Lord Shiva and took the blessings of all the deities there too.