Tuesday November 28, 2023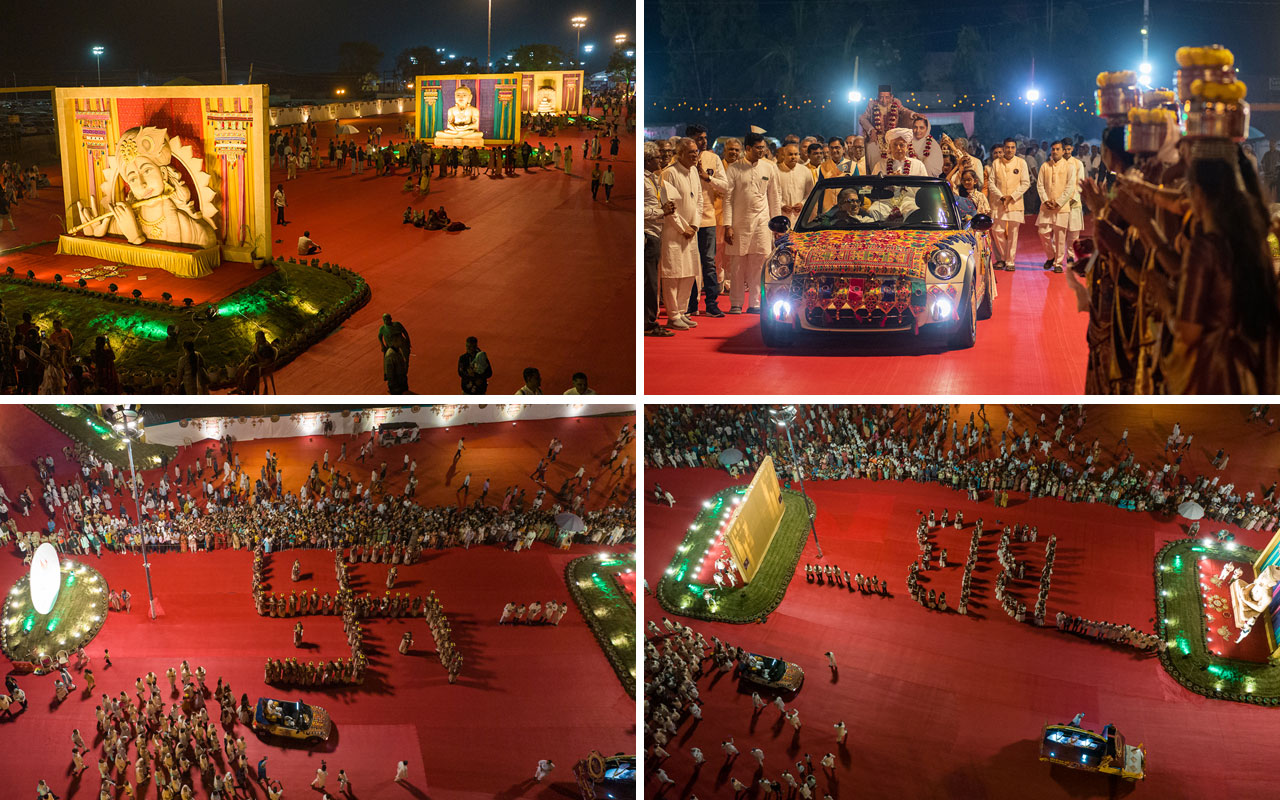 Param Pujya Dada Bhagwan's 116th Birthday was celebrated with great devotion and enthusiasm in Amreli this year. The event began on the November 22nd evening with a beautiful Shobha Yatra through the venue ground, where the followers had queued up in high spirits to welcome their beloved Pujyashree Deepakbhai in person and  Param Pujya Dada Bhagwan and Pujya Niruma in the subtle form.
The Honorable Chief Minister of Gujarat Shri Bhupendrabhai Patel was present on the occasion too, where he, alongside Pujyashree, lit the lamps and inaugurated the grand 5-day event of Param Pujya Dada Bhagwan Janma Jayanti. To start with, 116 little kids and youth presented an awesome cultural programme performance on the stage, which was quite quick and swift in connecting each and every person watching it. Soon following it, was a beautiful satsang of Pujyashree, whose words invoked bhakti of an altogether different level in the hearts of people towards Param Pujya Dada Bhagwan and inspired us all to come out of our faults. On the occasion, he also released a double bonanza for the progress of the followers on the path of salvation:
Gnanvani (in the voice of Param Pujya Dada Bhagwan) Part 42 and Part 43, and
Two books on how to get rid of Vyasan (addiction) in life,
a. 'Vyasan mukti no marg' for beginners and
b. 'Vyasan mukti ni vaignyanik reet' for the Self-realized followers, showing a scientific way to come out of any fault that is hindering their progress on the path of liberation.
Over the next two days too, there were Satsangs in the morning as well as evening for the followers, who obtained very useful guidance regarding their burning questions and few also shared their experiences. As always, the Satsangs did their beautiful bit in taking every follower one step ahead of where they stood. Our heart-felt obeisance to this most precious Gnani and the incredible Gnan!!!
On Nov 23rd evening, there was 'Daayro', performed by a follower Vimalbhai Mehta from Amreli, where he entertained the followers present in huge numbers, with a variety of things; the most heart-touching being an illustration of how Mother's love means everything to the child in his life, and the way 'Niruma as a Mother' has impacted each and every follower's life through her 'Vatsalya' is even far more superior than any Mother's love. Pujyashree here made a special remark that Niruma's Vatsalya has not reduced after she's gone from here, on the contrary, it has increased multifold, which every follower has experienced.
The next day evening, there was Garba organized, where a team of musicians and singers performed live for the the followers. As Pujyashree made an entry onto the stage, the jubilation of the followers soared to super heights. While their feet were dancing to the tunes of Dada's melodious pad bhakti, all the eyes were anxiously waiting to see Pujyashree arrive for the Garba.
The sprawling ground on which the Janma Jayanti celebration is taking place has in it an elaborate Theme park, comprising of video shows and activities that educate and enlighten people on various topics that are very useful in life and a nice cozy Kids Park too, where there's lots the little stars could learn from. One of the shows 'Siren', alerting us regarding our false pride within, has been a super hit, and in the Children's Park, the 'Vikram and Betaal show' is entertaining crowds while serving good lessons on humanity. So people pouring in, in large numbers, have lots to see and enjoy in this 'Jova Jevi Duniya'!!
On the 25th of November was Gnan-vidhi, where 3500 spiritual seekers procured Gnan (Self-realization) and secured their path of liberation!!! And finally, the special day of Param Pujya Dada Bhagwan's Janma Jayanti had arrived. On 26th of morning, people gathered in large, very large numbers, from all over the country and the world, to participate in the Janma Jayanti celebrations and receive the special Drashti Darshan from Pujyashree along with His blessings to each one in order to come out of all weaknesses.
Thus, the JJ116 celebrations proved to be a very fruitful event in terms of spiritual progress each one could make.