March 22nd, 2013
We spent 19th March, the anniversary of Pujya Niruma's mahanirvana day, in celebration of her extraordinary life.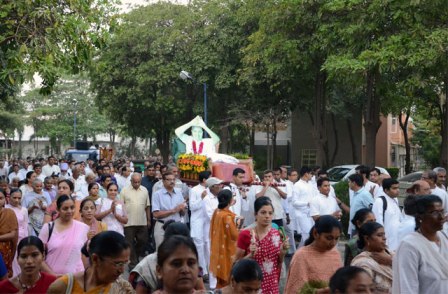 Our day began with a parade (prabhat feri) in honor of Pujya Niruma, followed by an inspiring message from Pujya Deepakbhai at Pujya Niruma's samadhi (memorial). In an atmosphere ambient with her divine presence, he reminded us of Pujya Niruma's awareness to remain in the Self and her goal for the world's salvation.
A special DVD showcasing Pujya Niruma's was part of the day's highlights. The DVD not only gave everyone an insight to who Pujya Niruma truly was, but it also reminded us of the love she had for all of us and her earnest desire that all should progress on this path. Her amazing Gnan sixers as always touched each and every heart present as they all silently made strong resolutions to follow in her footsteps to achieve a level of distinct awareness of the Self.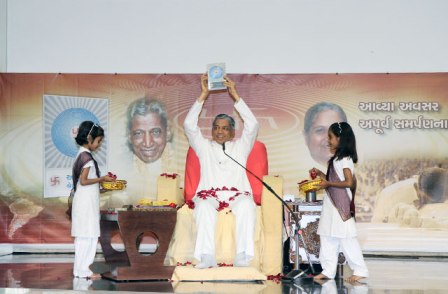 The evening started off with the inauguration of Aptavani 14 part 3 in Gujarati. Pujya Deepakbhai uncovered the Aptavani in the presence of all followers and the subtle presence of Param Pujya Dadashri and Pujya Niruma.
The work on Aptavani 14 had started in Pujya Niruma's presence and the day for its grand surrender to the people of the world had finally arrived. Pujya Deepakbhai performed a special vidhi and said that this book will be a milestone for a true seeker, as it is a roadmap to the path of Self Realization.
Other additions to the Akram Gnan library were also launched. This included Aptavani 04 in English, Childrens Junior Akrampedia Series – 1 (Trimantra) in Gujarati and English and Swaramana 26, a compilation of special devotional songs written by our beloved Pujya Niruma.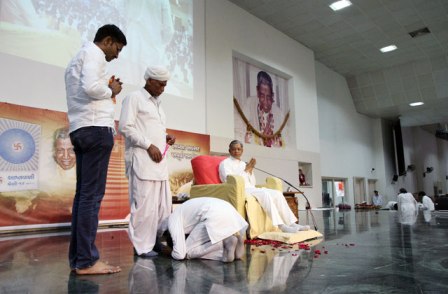 This was followed by a special heart touching Akram Diksha ceremony. A new batch of Sadhaks (spiritual aspirants) surrendered themselves to Param Pujya Dadashri's cause of Jagat Kalyan whole heartedly. They were blessed on stage by Pujya Deepakbhai as well as their family members.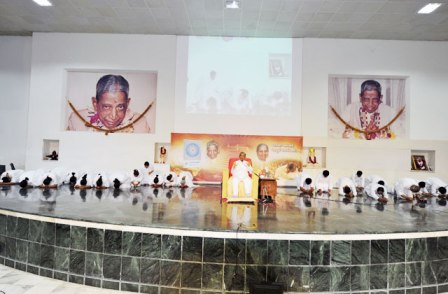 Additionally, Pujya Deepakbhai announced the progression for already dedicated Aptasankul members, as they take a step forward in their spiritual stage.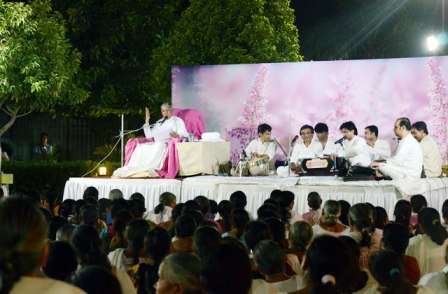 The day ended with a beautiful bhakti session held at Pujya Niruma's memorial. The devotional songs sung in the bhakti were a salute to her devotion for Param Pujya Dadashri. The lyrics to these bhakti pados were written by her and showed how truly amazing she was.
In this way, March 19th, Pujya Niruma's day was spent in her memory, as her larger than life presence was continuously felt by all. Her touch upon our lives continues to remain strong as we remain inspired to live up to the divine qualities that she truly personified.
To see more photographs click here.